Since 2003, CAFCU has donated thousands of school supplies to local children and schools in need through Project Backpack. By collecting items like crayons, scissors, markers, pencils, rulers, and backpacks, we've been able to put smiles on the faces of children in need everywhere as we set them up for success in the new school year.
You can help us make this year's Project Backpack campaign a success by choosing one of two ways to donate from July 10 - August 11, 2023:
Drop off new school supplies at your local CAFCU branch. All items collected will be donated to a local school and/or a chapter of the Boys and Girls Club. Click here to find a branch near you.
Donate money online from your CAFCU share savings or checking account and we'll purchase school supply items on your behalf to donate to the Boys and Girls Club.* CAFCU members can easily donate by logging into Online Account Access or our mobile app. From the menu, select eServices > Online Forms. On the Forms page, look for the Project Backpack Donation form.
With your help, we'll be able to make this year's Project Backpack campaign our most successful yet.
Remember to watch our social media pages for progress updates!

Supplies needed include:
Backpacks
Colored pencils
Glue sticks
Markers & crayons
Rulers
Construction paper
Folders
Binders
Notebook paper
Tissues
Highlighters
Pencil sharpeners
Calculators
Pencil cases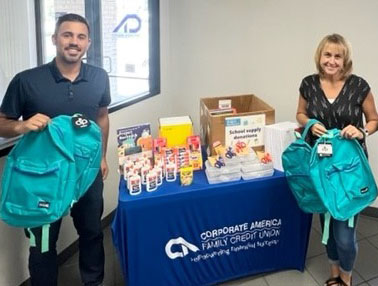 *Donations will be used to purchase school supplies including but not limited to pencils, erasers, notebooks, pencil sharpeners, glue, rulers, folders, scissors, pencil cases, crayons, markers, and pens. Purchased school supplies will be distributed to local schools and local Boys and Girls Club chapters. Monetary contributions in 2023 will be donated to the Elgin Boys and Girls Club. Consult with a tax professional regarding the tax deductibility of the donation.
For more information about Project Backpack, connect with us: