5 fun Halloween candy activities to teach your kids about money!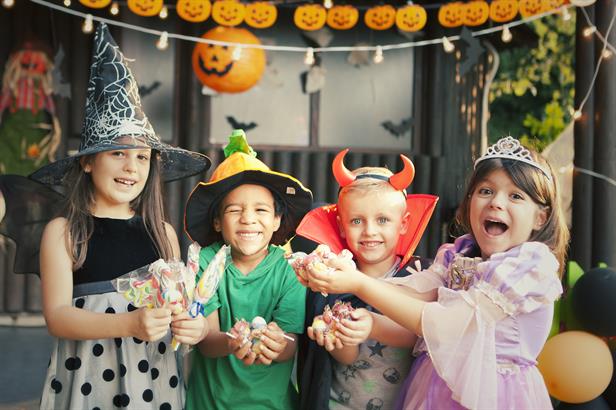 If you're looking to teach sound financial skills to your children, Halloween can be a great place to start!
Game #1: Counting Candy
Before your children start digging into their Halloween candy after a long evening of trick-or-treating, it's good practice sorting the candy to look for any questionable or dangerous treats.
Sort candy into piles to reinforce the counting skills fundamental to financial literacy:
Sort the candy by size.
Count the candy in each pile.
Add a dollar and cent value to each pile. Add higher dollar values to larger candies and lower values to smaller ones.
Total the dollar amounts in each bag to see whose candy has the highest "value!"
You can also turn this into "income" for your child by adding to their candy bank per chore! Example: Putting away toys = $1 (1 large candy bar). As the candy pile slowly changes, have your children keep a candy tracking "budget" sheet by recounting their candy piles.
Game #2: Cash Candy
As suggested in the game above:
Sort the candy by size.
Count the candy in each pile.
Add a dollar and cent value to each pile. Add higher dollar values to larger candies and lower values to smaller ones. Having pieces of candy worth different amounts will teach children about budgeting.
Make pretend transactions and have your child accept your "candy money," and make the change back using the candy.
If you are craving some sweets, offer to buy some candy from your child. You could also let them negotiate the amount of their candy so they can practice their bartering skills. You can even suggest to them to come up with deals like "two for one."
If you have any leftover candy from the night that didn't get passed out to visiting trick-or-treaters, you could also offer to sell that for other pieces of candy that your child has or real money to improve your child's decision-making skills.
Feel free to keep adding different elements to further explain to your child why this candy cash game is important and what financial skills they should be learning, such as "needs" vs. "wants," budgeting, saving, and spending within their means.
Game #3: Bank of Candy Waiting Game
Give your child a small amount of their favorite candy to put into their "savings account." Then provide them with more candy in their savings after a short time to show how compound interest and delayed gratification can earn them more of their favorite candy. This is a wonderful game to play after dinner! Download the printable game.
Game #4: Compounding Candy
In this game, your children will have the opportunity to increase the amount of sweets they can eat per week.
Establish their initial amount of consumption. It can be as small as a single piece of candy a day. If they are able to stick with just the one and not eat more, you can opt to give them a "raise" on their daily consumption.
The frequency of "raises" can come after each passing day of good behavior or each passing week. Of course, you can also set a limit for the number of pieces they can eat daily (so they aren't eating too much candy). This activity is an excellent opportunity to show how saving money (candy) and giving it time to "grow" is beneficial to them.
If your children do not stick to the plan and eat more candy than allowed, decrease the maximum threshold, you will allow them to get up to. Have them start back up to their initial amount of candy a day. Putting in place a penalty is also an excellent incentive to stay on track and demonstrates the downsides of tapping into accounts before giving them the time required to grow.
The game, as a whole, also has the added benefit of getting rid of candy in a measured manner.
Game #5: Board Game Candy
Try a modification of Dungeons and Dragons, Fortnite, Monopoly, etc., to have your children learn about saving, spending, and earning. The only difference is you will use Halloween candy instead of the game money.
With Halloween candy and money games, the sky is the limit. So have fun, get creative and think outside the box!