Best 8 tips on how to enjoy the holidays without worrying about money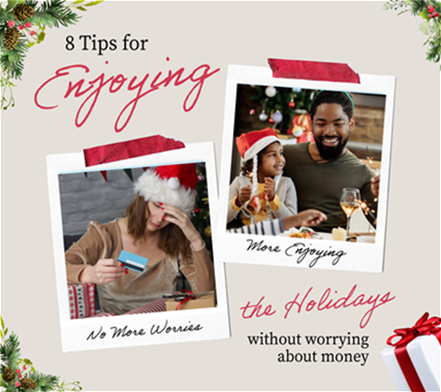 The holidays are the most expensive time of the year, and with the cost of goods rocketing, consumers are paying even more for holiday gifts this year.

82% of Americans reported that the holidays contribute to their stress.1

If you're like most people, the holidays cause more financial stress than any other time of year. The worry hits because of how much money you do or don't have for entertaining, buying gifts, traveling, and other expenses. Unfortunately, even with all of the feel-good aspects of the season, the holidays also come with a lot of pressure, leading to many of us feeling anxious and stressed.

We are here to help you enjoy the holidays more and stress about money less! Although you may not be able to change your financial situation in time for the holidays, there is still a lot you can do to manage the worry you may feel about your finances this time of year.


1. Think about why you are worrying about money
While some of us may be feeling financial stresses due to economic realities such as job loss or some sort of unforeseen financial emergency, many of us experience self-imposed pressure during the holidays. Some of the reasons that you might be feeling avoidable financial stress can include social expectations, commitments, competition, materialism, and lack of planning.2

Remember: It's OK to live within your means. There is absolutely no need to try to impress anyone. Simple holiday entertaining and creative gifts can be just as good as the expensive alternatives.

Be kind to yourself and give yourself some grace. If you find yourself feeling overwhelmed, take some time to understand your feelings so that you can deal with them. Take deep breaths, remember that you have options, and re-think the situation.



2. Talk with friends and family
If the holidays are making you feel financially stressed, talk with your loved ones about it. You are certainly not the only one who is worried about finances this time of year. You could end up becoming a holiday hero this season if you suggest an alternative way of gift giving that is easy on everyone's budget.

If everyone is not on board, don't be afraid to set boundaries to limit your financial stress. Ultimately, if your finances are tight, you get to decide to change how you celebrate holidays with your family and friends.



3. Talk to your kids about how this holiday might be different
Have honest and meaningful conversations with your kids about the financial realities of giving gifts. Let your children know that the way you share gifts is going to change but include an optimistic note. Begin by telling them what will be the same or what you are excited about this holiday season. So many priceless and meaningful experiences of the holidays — such as making festive foods, decorating, watching movies, or singing songs — are inexpensive or even free.

Discuss with your children what you're thankful for and look for ways to give back to others. Find opportunities to serve and help other people that are in a less fortunate situation. Teach the spirit of the holiday to your kids. This can help ground your children and redirect their focus away from gifts.

In developmental studies of parenting, gift-giving is not a significant behavior of predicting successful childhood outcomes. Instead, building healthy relationships, support, guidance, and teaching are the things that are most important.



4. Watch out for avoidant behavior
When it comes to money trouble, refusing to talk about money or open bills this time of year will only make your holiday financial stress feel worse.

Be proactive and check your credit score. It may seem like an unlikely place to begin your holiday preparations, but it's smart to check your financial pulse before wading into the stores, where easy credit is readily available.3 The awareness of knowing where you are will give you the right level of motivation. Shoppers who are motivated to maintain or improve their score may find they are less likely to charge purchases or open new credit lines while holiday shopping.4



5. Have a plan of attack
After deciding how (or if) you're going to give gifts this year, come up with a plan to tackle your financial worries! Having a plan is not only comforting but also relieves a lot of stress.

Make a list and check it twice. If you don't have a list, everything is on your list.4 It seems obvious, but every person and animal you plan to buy for needs to be on that list.

Figure out a budget. Set a per-person shopping budget and stick to it. No impulse shopping.

Have a plan for credit usage and research your lending options. If you plan to take out a loan, make sure you get one with terms that work well for you and low rates. If you plan to pay for your holiday expenses with a credit card, get one where you can get cash back or rewards on all your purchases. There's nothing wrong with using credit cards or taking out a small loan as long as you don't overdo it and get yourself into more debt than you can afford to pay back in a reasonable amount of time.

Scope out purchases in advance. Use online shopping carts as a way to avoid impulse purchases. Keep things in your basket, and then step away to think about it. As a bonus, some retailers will email coupons to those who have left a full cart on the site, making a future purchase less expensive.3

If you can't afford it, don't buy it. If you can't afford to buy a gift without borrowing, the best option is not to buy it. Shortchanging your savings or going into debt is ultimately more detrimental to you and your family than skipping a few presents.



6. Think outside the box
We give gifts to show each other appreciation and love, and we can do this without emptying our wallets or going into debt. Try a gift exchange so you buy one gift versus gifts for everyone. Secret Santa arrangements are also popular.

Focus on experiences, not things. Try a DIY gift-making party or have a potluck instead of cooking the whole meal yourself and footing the entire bill.

Give the gift of time. Offer to put together a family photo album or finish a project that's been lingering. Learn to play your partner's favorite song on the guitar. Write a poem or make something personal.



7. Find joy through self-care
Take a step back from the chaos and do something that brings you joy. When feeling stressed out, it's easy to forget about treating yourself.

Treating yourself doesn't have to mean buying material items. It can also mean taking a walk, letting yourself take a break, coloring, or taking a long, hot shower. Whatever it may be, don't forget that you can and should treat yourself.



8. Remember what the season is all about
Appreciate what you have. Things don't make people happy in the long run. It's easy to get swept up in the consumerism of the season. However, the real meaning of the holidays is not meant to be about money or materialism.

Remember to enjoy the time you have with your loved ones. It will keep you from stressing over less important things.


A few other holiday money tips to keep in mind:
Stay away from layaway. A lot of people walk away from layaway without ever claiming their purchases.
Forget sending holiday cards. The postage can kill you. Email letters. It doesn't cost anything.
Don't pay large shipping fees to get presents delivered by Christmas. Does it really matter if it is a day late
With these tips, you might not be able to remove all of your holiday money worries, but you can certainly alleviate some of them. After all, the holidays are meant for connecting with others, relaxing, and recouping — not stressing out about money.

Remember to give yourself some grace, and don't feel bad if you can't celebrate the way you may have in years past. With a little bit of planning and re-thinking, it's possible to get through the holidays with less financial worry — and avoid debt or wiping out your savings account. The great thing is that you'll feel even less stress when you reach January in good financial shape.


As always, continue to empower yourself financially to lessen your financial worries and stress
Sound financial management doesn't happen overnight. Consistency is key, and a consistent financial success eNewsletter can be a great way to continue your positive personal finance habits for years to come.

FREE financial wellness webinars are also a great way to empower your financial success in 2022. Ask financial experts questions and learn more about topics such as repaying debt, saving for the future, or buying your first home.


More financial resources for the holidays:
Sources:
1. It's a Tough Time to be Stressed About Money. https://n26.com/en-us/blog/dealing-with-financial-stress
2. Reducing Financial Stress During the Holidays. https://moneyning.com/money-management/reducing-financial-stress-during-the-holidays/
3. 5 Way to Avoid Holiday Financial Stress | Oklahoma .... https://www.tinkerfcu.org/5-way-to-avoid-holiday-financial-stress/
4. 7 Ways to Avoid Holiday Financial Stress - Yahoo. https://finance.yahoo.com/news/7-ways-avoid-holiday-financial-163054201.html