8 smart steps to take when getting a car loan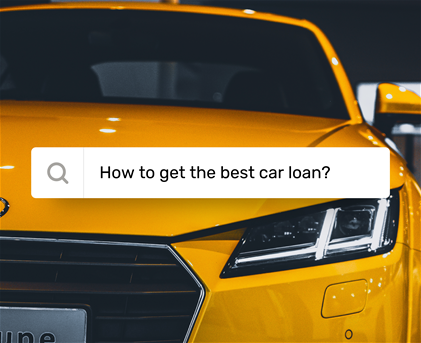 While shopping for a new vehicle is exciting, it is also no simple matter. To make sure you get the lowest rate, the best dealer incentives, and a monthly payment that works for you, you will have to take time to properly plan and prepare for buying a car.
Following the steps below can save you hundreds or thousands of dollars and set you up for a more secure financial future. Here's how:
1. Figure out how much you can afford
It's easy to get carried away and end up with a car that is out of your price range.
Review your income and expenses to see what you have available each month to spend on auto expenses.
When reviewing your finances, start to build your budget for your vehicle. First, adjust the numbers in your budget to see how different transportation expenses would fit into your monthly spending plan. Then, you can plug that monthly number into an auto payment calculator to see how much of a total vehicle price you can afford.
When you think about how much you can afford for your monthly transportation expense, remember it's not just the auto payment. Be sure to add in other costs associated with owning a vehicle, such as auto insurance, gas, tolls, parking, repairs, and maintenance. Also, keep in mind that car insurance premiums (monthly payments) can be an even more substantial expense to factor in depending on the car you buy.
2. Put as much money as you can toward your down payment
While you can buy a car with no money down, you'll end up paying a lot more. The more you borrow, the more the car will cost you. On the flip side, the bigger your down payment, the lower your loan and monthly payments will be.
If you need to effectively save for a down payment or want to add to your down payment savings, determine how much you want to save, then set a reasonable date to achieve your goal. Setting up a specialty saving account can make the process convenient and easy. You can also set up reoccurring automatic transfers to have a set sum automatically deposited into your account.
3. Review your credit report
Always check your credit report before you apply for an auto loan. If errors, incorrect information, or fraudulent activities appear on your credit report, you could be turned down or only offered a loan with a very high interest rate. If you find any errors or evidence of fraud, you should file a dispute to correct them as soon as possible.
Every 12 months, you are entitled to a free copy of your credit report from each major reporting bureau (Equifax, Experian, and TransUnion). Also, due to the pandemic, you can now request a copy of your credit report every week until April 20, 2022.
If your credit is subprime or poor, you can look intoCredit Builder Loans on new and used vehicles. CAFCU Credit Builder Loans are designed for those who are ready to make a vehicle purchase but may not meet the credit requirements of a traditional loan.
4. Get preapproved for an auto loan
If you're ready to buy your car, get preapproved for an auto loan. This will offer you several advantages, such as more negotiating power at the dealership and being more protected from marked-up rates.
» SMART TIPS:
Multiple hard credit inquiries in a short time are counted as only one inquiry, so it's crucial to apply for all loan preapprovals within a two-week period.
Don't be misled by an advertised low monthly payment – if the length of the loan is long and the interest rate high, you will be paying more than you may have to.
Be careful of extremely low promotional APRs. Though you may qualify for particularly low rates, you might have to put down a substantial down payment or make very high monthly payments.
Make sure you understand the following aspects of the loan agreement before you sign any documents:
The exact price you're paying for the vehicle
The amount you're financing
Annual percentage rate (APR)
Number and amount of payments
Total sales price
5. Trade-in or sell your car
To get the best price on your vehicle, make sure you know your car's worth before you walk into a dealership or sell your car. Check reference books or try sites like kbb.com and nada.com to determine how much your vehicle is worth value.
A trade-in to the dealer is often the easiest option, though typically not the best deal. To ensure you get the most from a trade-in, do so only after you've negotiated the best possible price for your new car.
If you sell your car, you will have to allow for the time it takes to sell it, including the effort of placing the ad, talking to a lot of people, and negotiating with buyers.
6. Determine your budget by using the amount you are offered for your loan
Your loan preapproval offer will state the maximum amount you can borrow; however, that's not the total price of the car you can buy. Add 10% of the vehicle cost to account for taxes and fees.
Use an auto loan payment calculator to design your loan. Put in your down payment, the trade-in value of your current vehicle, and lending terms to find the right monthly payment that fits in your budget.
If that payment is too much for your comfort, remember that the preapproval offer is just a limit — you can borrow much less if you choose. It's far more important to be able to make your loan payments comfortably, even if the lender says you can afford more.
7. Find the right car for you.
Now that you've got financing offers and know the maximum car price you can finance, it's time for the fun part: picking out your new ride. Your desires certainly play a role in your car buying decision. Make, color, options, and style are all important in making sure you are happy with your final choice. Read car magazines and websites for ideas.
» SMART TIP:
To avoid disappointment once you have your heart set on a car, be sure to check the loan offers for:
Excluded brands. Some lenders will exclude certain car manufacturers or types of cars, such as electric cars, from funding.
Dealership requirements. Some lenders will require you to shop through a specific network of dealers.
Lender requirements if you intend to buy a car from an individual.
Time restrictions. Most lenders give you 30 days to use the loan. If you need more time, call the lender to extend the offer.
Find a robust car-shopping website
There are a variety of online resources you can use to shop for your car, but they're not all created equal. The best platforms let you compare a vast inventory and allow you to personalize your search by choosing the make, model, year, features, etc. In addition, you can view photos and select new versus used or certified pre-owned. With CAFCU's vehicle research tool, you can lock in the price you want with no-haggle, get unbiased car reviews, expert advice, and close the loan faster!
Determine favorites, contact dealers, and check quality.
Find the vehicles that best fit your needs by searching online. Create a comparison chart to keep track of all the attributes that matter most to you and how each vehicle stacks up.
Once you know which vehicle will suit you best, start looking at particular models and add the prices of each to your comparison chart.
Do test drives and check vehicle histories.
During the test drive, pay special attention to the transmission, shocks, brakes, and alignment. Look for warning signs. A careful inspection of the car will help you steer clear of hidden problems. If you aren't sure what to look or listen for, invite a more experienced driver along on the test drive. Write down the Vehicle Identification Number (VIN) and use it to get a vehicle history report from a company like AutoCheck or CARFAX if you are shopping for a used vehicle.
8. Get the best price on your vehicle.
Online prices are often cheaper because car dealers assume that consumers searching online are primarily driven by price. In contrast, the dealers believe that people who go to the dealer first will be more persuaded by overall value. As a result, they often advertise a lower price on their website. However, don't let that stop you from contacting the dealer directly to see if there's room to negotiate. Or see if they will price match if you find a comparable car online at a lower cost.
Negotiate each piece of the deal separately. Be cautious of salespeople who roll the different components of the transaction – purchase price, financing, trade-in, extras – into one deal or make an offer in one area of the deal that sounds too good to be true.
Developing your bargaining skills will be worth it to you in the end, as it can often SAVE you 10% to 20% off the advertised price.
» SMART TIPS:
You may be able to negotiate a particularly good price on overstocked or less popular cars.
Be sure to ask about any manufacturer's incentives, reduced finance rates, and cashback on specific car models.
Don't be afraid to walk away if you are not happy with the deal. You know what you can afford, and ultimately you control this transaction. Let the salesperson know you know where the door is and that you won't hesitate to use it if they can't meet your number.
We wish you the very best in finding the best!
Take the time to review and/or build your credit, learn about the lending process, shop around, compare rates, and negotiate. By doing so, you can save a lot of money and drive away feeling secure, knowing that you received the best deal possible.

As always, we offer many online tools available to help you empower you financially. You have access to articles, resources, podcasts, calculators, and much more! Find financial education resources that matter to you. A regular financial success newsletter can also be a great way to keep up with the latest economic trends and continue your positive personal finance habits for years to come.
FREE financial wellness webinars are also a great way to empower your financial success. Ask financial experts questions and learn more about topics such as repaying debt, saving for the future, or buying your first home. As a CAFCU member, you can chat online, e-mail, or call 888-456-2227 for a FREE consultation with a Financial Coach today.
Not a member yet? You can still get exclusive access to FREE and confidential money management support whenever you need it. Find out what it's like to get advice from our representatives, who genuinely have your best interests in mind. Learn about all of our exclusive member benefits and join today!
» MORE CAR BUYING RESOURCES: