How to refinance a car loan in 3 easy steps
You may have heard of car loan refinancing, but what exactly does it mean to you?

If you have an expensive car payment weighing down your monthly budget, or you just want to save a little money, you may be able to refinance your current loan to a new loan with a lower interest rate. This will ideally allow you to you pay less money each month and/or pay your loan off more quickly. That can translate to owing less in interest over the long term.
How much can you save by refinancing?
The amount you can save on an auto loan refinance depends on the new interest rate you lock compared to the old rate. Depending on that factor alone, the savings can be great over the life of your loan.
Here's a basic breakdown of the savings possibilities: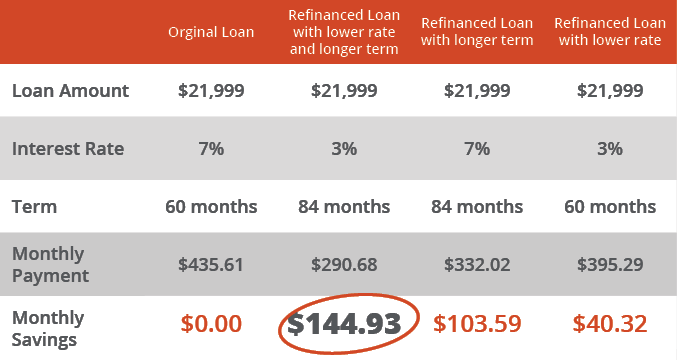 Not every borrower will save by refinancing, but it's always worth an inquiry to your lender, especially when interest rates are discounted during special promotional periods.
Getting started with refinancing
Sounds great, but how exactly does refinancing work?
At CAFCU, our goal is to financially empower you. That means our team is prepared to walk our members and potential members through complex financial processes like refinancing, making them seamless and easy.
When it comes to refinancing a car loan, we're here to help. Here are the basic steps you would need to take to refinance a high car payment:
First, gather your information:
You'll need to share with us certain details to help you with your refi. Here's what you'll need to have on hand when you call:
• Your car's Vehicle Identification Number (VIN)
• The exact odometer miles on your vehicle
• The balance or payoff amount on your current loan.
Second, complete the application:
You can apply to refinance an auto loan online at cafcu.org. The online application process can be finished quickly any time of day or night. Once completed, your application will be assigned to a loan officer, who will typically contact you within 24 business hours or less.
Third, communicate with your loan officer:
After your loan is reviewed and approved, your loan officer will guide you through the next steps to finalize switching your loan over to CAFCU. It's that simple!
Questions?
Call CAFCU's Lending team during the hours of 7 a.m. - 7 p.m. CST at 1-800-359-1939, option 2.
For more information about refinancing auto loans with CAFCU, go to
cafcu.org/autorefi