8 best hacks for purchasing cars in today's market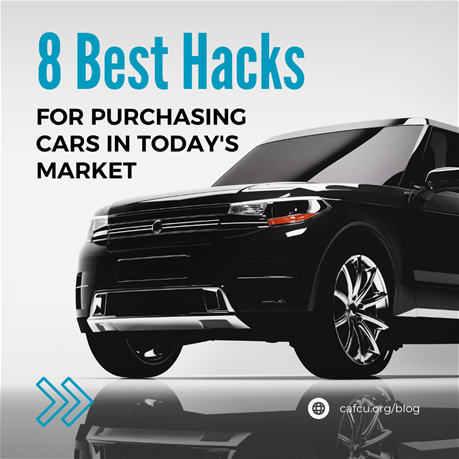 Competition for new and used vehicles will be fierce as inventory shortages persist in 2022. Experts are predicting the chip shortage will last well into 2022 and possibly into 2023.1
Here are 8 tips to help you navigate today's challenging car-buying market.


Get pre-approved for financing

Getting pre-approved for a vehicle loan can offer you more leverage when buying a car. Preapproval will also help you know what you can afford.

Tip: Check your credit score (and work on increasing it if needed) before applying for financing. You can also look into a Credit Builder Auto Loan if you have less-than-stellar credit.




Cast a wide net

When searching for a car, try broadening your search in terms of location. You'll likely find more options in your price range when you look beyond your ZIP code.

Tip: Depending on the type of car you're buying, it's a good idea to consider when and where it might be best to buy it. For example, you may want to wait until fall to buy a convertible so you can talk to dealerships in colder climates that may have summer stock left over. If you're considering a hybrid, go to rural dealerships where they might not be as popular.




New or used?

If you're a new-car shopper, you might have to wait a while before you can find the car you want. However, if you're able to find a gently used or certified pre-owned (CPO) version of the new model you're considering, it may be worth a look.2

Used shoppers could consider looking for a CPO, which most manufacturers offer through authorized dealers. Certified cars can be a little more expensive than used cars, but that price gap is shrinking in the current market.

Tip: If you get a used vehicle loan through CAFCU for just a few dollars a month, Mechanical Repair Coverage helps cover you on unexpected repair costs that could total hundreds or even thousands of dollars. Due to inflated car prices, you could also consider GAP (Guaranteed Asset Protection) insurance in today's market.




Do your research first

Online tools can help you find out what is a fair price for your desired vehicle, read professional reviews, and search owners' reviews.

Also, research various dealers to learn about special incentives. While there are fewer deals available in the marketplace than usual, there are still many to be found.

Research the best time to buy a car, understanding that factors like holidays and the day of the week or month can impact how likely you are to strike a deal.

Tip: Look for savings the dealer doesn't control, such as factory rebates, low-interest financing, loyalty, and deals for family and friends.

If you're currently leasing a car

Give thought to the benefits of buying your leased car, especially if your lease term is nearing the end.2 Since the market disruptions from the pandemic were unforeseen, many end-of-lease purchase prices are well below today's market value of the vehicle. Read our blog post for more on lease buyouts.




Dealers or private sellers?

Buying from a private seller is usually cheaper. However, you have limited guarantees as to the car's condition. You'll have to do your own research on the vehicle's history and condition.

One way to avoid the markups and dealer add-ons is to order your car, which ensures that you get exactly the color and options you want, provided you're willing to wait roughly six to eight weeks.3

The online approach is almost always cheaper and easier than shopping in person. An Internet salesperson will often give up the best price with no negotiation at all. The easiest way to order a vehicle is to use an automaker's website to build the vehicle configuration you want and then send that information to your preferred dealership.3




Make the most of your trade-in

A generous offer for your trade-in can help offset some of the cost of a new vehicle purchase. Before you go to the dealership, get multiple offers from dealers. If the dealership offers a lower trade-in value, use the other offers as leverage to get more for your trade.4 You don't have to trade your car in at the same dealership where you're purchasing one. You can also consider selling your car. Selling the vehicle may seem like more of a hassle, but you could wind up with hundreds or thousands of dollars more.




Negotiate

While dealerships aren't likely to budge on price, you might have luck asking for bonus extended warranty coverage or additional free oil changes.5

You can also try to negotiate the fees away.

Tip: Request a Carfax report before buying a used vehicle. If there is anything negative on the report, you may be able to use it as leverage in negotiating a lower price.




If the car fits, act fast

Make sure your financing is in order, and a down payment is readily available. Show up prepared. Someone who can buy today will get a better deal than someone who says they will be back tomorrow. Get pre-approved now.


We understand buying a vehicle in this chaotic market can be challenging. However, with the proper preparation, patience, and a willingness to compromise, you can still improve your odds of saving!
Helpful Resources:


References: