Online Account Access Update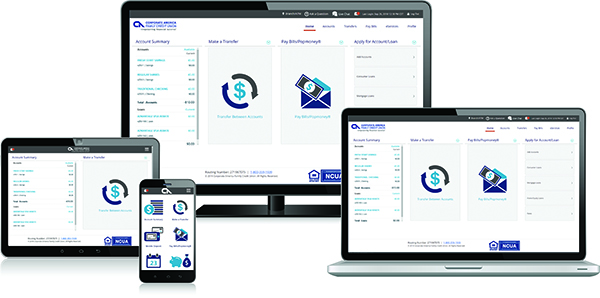 Your Online Account Access is about to get a whole lot better! On Tuesday, October 23, Corporate America Family Credit Union (CAFCU) will introduce a new-and-improved online and mobile banking platform with state-of-the-art features that will make managing your accounts from a desktop computer or mobile device easier and safer.
Improvements you will love
Enhanced security features with biometric login options on the mobile app that will allow you to use fingerprint or facial recognition-enabled mobile devices to access your account faster and with greater security (available with select Apple and Android devices).
A customizable mobile banking experience that allows you to bank the way you want with features like "Fast Balances," which allows you to view your balances on your smartphone at a glance before you even log in.
An improved, streamlined look and feel flexible enough to give you the same great account access experience, whether you are on a desktop computer, laptop, tablet or smart phone.
A more intuitive, user-friendly design including customizable "tile boxes" offering quick access to common transactions like transferring funds, reviewing account history or last loan payment.
More self-service options designed to empower your financial success.
Frequently Asked Questions
Q: Why are you updating the current Online Account Access platform?
Q: When will the upgrade take effect?
Q: Will CAFCU branches be open during the upgrade?
Q: How will I access my accounts during the upgrade? Will my access be interrupted?
Q: How will I access the new platform after it goes live? Will I have to redownload or update my mobile banking app?
Q: Will my password change? Will my member number change?
Q: How will I log in with a phone that doesn't include fingerprint or facial recognition?
Q: Will Bill Pay change in any way? Will I need to re-enter my Bill Pay payees?
Q: Will I need to re-establish my automatic payments and transfers or direct deposits?
Q: My accounts are connected to accounts at other financial institutions. Will those connections remain in the upgrade, or do I need to re-set them?
Q: Who should I contact if I have more questions?
Check back for updates as we prepare to launch this exciting upgrade! Please contact our Member Center at 1-800-359-1939 with any questions.