Online Account Access Update
We are aware of an issue impacting iOS devices while accessing and using mobile deposit. We apologize for the inconvenience and are currently working with our vendor to resolve the issue as quickly as possible.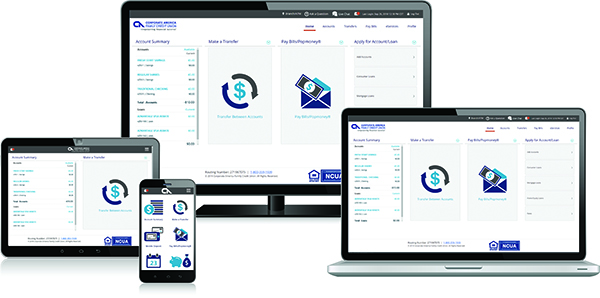 On Thursday, June 19, CAFCU released some important updates to online and mobile banking. Please see below for important information regarding the update and the first time you log in:

Attention Mobile App Users:
You may be prompted to update the app in your app store if not automatically updated by your device. Once updated, you will notice that the login page has a new design with some important differences:
Biometric Login
Fast Balances
New Security Features
In order to make your Online Account Access experience as secure as possible, we introduced several enhancements that will help detect any uncharacteristic or unusual behavior involving your account.
You may be required to confirm your identity the first time you log into your account through one of the following methods:
Request to receive a text message or phone call with a confirmation code.
Answer a few "Out of Wallet" questions. These questions are designed so that if someone were to steal your wallet, they could not use the information to answer any questions. The questions that are used are multiple-choice.

New Security Questions
You will be asked to set up new challenge/response questions the first time you log in. If anything out of the ordinary is detected while a log in is attempted, these questions will be asked in order to proceed with the log in. This will help prevent fraudsters from accessing your account.
Need Help?
If you have any questions about the update or are experiencing issues, please click here for ways to contact us.

Frequently Asked Questions
Q: How do I set up Biometric Login with the CAFCU app?
Q: Can two different people use the Biometric Login feature to access a single account?
Q: How will I log in with a phone that doesn't include fingerprint or facial recognition?
Q: How do I enable Fast Balances with the upgraded CAFCU app?
Q: Will Bill Pay change in any way? Will I need to re-enter my Bill Pay payees?
Q: Will I need to re-establish my automatic payments and transfers or direct deposits?
Q: My accounts are connected to accounts at other financial institutions. Will those connections remain in the upgrade, or do I need to re-set them?
Q: How can I add external accounts?
Q: What is the time frame for external transfers?
Q: What happens if I get locked out after three failed attempts logging in?
Q: Who should I contact if I have more questions?