Email it. Text it. Pay people with Popmoney® payment service.
Send money from your Checking or Share Account.
Popmoney is an innovative personal payment service that eliminates the hassles of checks and cash. Now, sending and receiving money is as easy as emailing and texting.
What is Popmoney?
The Popmoney personal payment service lets you send money to friends, family or almost anyone. All you need is their name, email address or mobile number. And their financial institution doesn't even have to use Popmoney!
How it works.
Popmoney personal payment service allows you to send and receive money directly from your Online Account Access. You can send money to your contacts, who will then be notified by email or text message. Users can receive money in their eligible account online at their bank (if it's a member of the Popmoney network), or at Popmoney.com, saving them a trip to the bank. You and your contacts will never need to exchange financial account information.
What you can you use it for:
Send money to your child at college
Pay rent to your landlord or roommates
Pay the babysitter, dog walker or lawn care service
Collect rent and request a payment from friends for arranging an outing like a concert or dinner

Send or get money today!
To get started, a simple, one-time registration is needed. Just log into Online Account Access or our Mobile App and choose "Bill Pay/Popmoney" and follow the registration prompts. From then on, you can access Popmoney using Online Account Access or our Mobile Banking App. For more information and questions please contact our Member Service Center at 1-800-359-1939, Monday through Friday from 8 a.m. to 4:30 p.m., CST.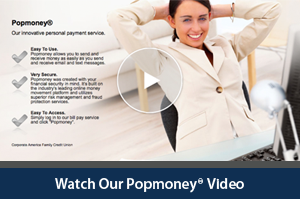 Popmoney.com is a registered trademark of Fiserv, Inc., or its affiliates. Terms and conditions apply.

Terms and Conditions apply. Popmoney personal payment services offered at Popmoney.com are provided by or through CheckFreePay Corporation, a licensed money transmitter, and/or its affiliate CheckFreePay Corporation of New York, which is licensed and regulated as a Money Transmitter by the New York State Department of Financial Services, each a wholly owned subsidiary of Fiserv, Inc.