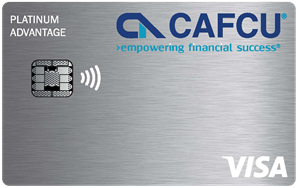 A Visa® Platinum Advantage card empowers you with the same attractive features of a Visa Advantage card — no annual fees, no minimum finance charges, worldwide acceptance and Rewards Programs. Plus, these added benefits can make your cardholder experience even better:
Higher credit line (up to $25,000)
Lower interest rates
Extended warranty on purchases made with the card
$250,000 free travel accident insurance
Free travel assistance around the world
Rewards Programs — Join our uChoose Rewards® Points Program or choose a 10% rebate on interest paid quarterly.
CAFCU Card Control App — Monitor and manage your CAFCU credit and debit cards. You can quickly turn your card "on" or "off," set up transaction alerts and spending limits.
Open a Visa Advantage card today!
You can apply today online, or contact our Lending Center at 1-800-359-1939, option 2, for more information.
View Rates
Apply Now
Electronic Loan Signature
For more information or questions connect with us: