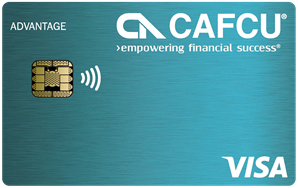 If you're looking to improve your credit score or have little-to-no credit history, a Share Secured Visa® can empower you to build your credit. With a credit line up to $10,000 secured by money you deposit in a share account, you can begin building a positive credit history today. You can also earn dividends on the funds used to secure the account. Now that's a win-win!
Join our uChoose Rewards® program to earn points while you shop.
Monitor and manage your CAFCU credit and debit cards with our CAFCU Card Control App. With this convenient tool, you can quickly turn your card "on" or "off" and set up transaction alerts and spending limits.
Open a Share Secured Visa today!
You can apply today online, or contact our Lending Center at 1-800-359-1939, option 2, for more information.
View Rates
Apply Now
Electronic Loan Signature
For more information or questions connect with us: