Empowering Financial Success Newsletter
Are you looking for helpful tips on how to get a loan, save for college and otherwise manage your money? Then check out our bi-annual newsletter, Empowering Financial Success, which features current and past issues containing articles about these topics and many more.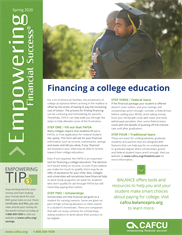 Archived Editions:
Fall 2019
Spring 2019
Fall 2018
Spring 2018
Fall 2017
Spring 2017
Fall 2016
Spring 2016
Fall 2015
Spring 2015
Fall 2014
Empowering Financial Success eNewsletter
If you're like us and you think it's important to stay informed on issues that affect – and can improve – your finances, then we have a powerful and timely resource for you. Click on the Sign Up Now button below to receive our monthly eNewsletter designed to inform and empower your financial success.
Sign Up Now
Click here to read this month's issue.