10 Smart money moves you need to make in January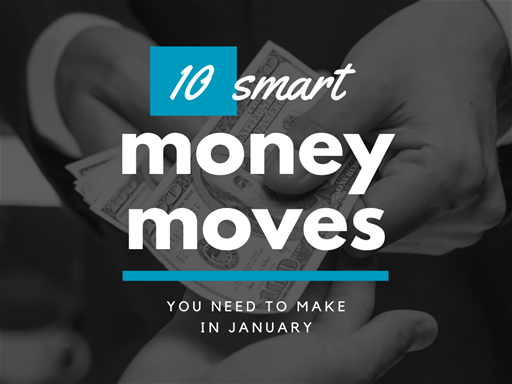 It's that time of year again for goal setting. Your finances are probably linked to quite a few of your goals, such as paying for a monthly gym membership or saving up for travel. Or, one of your main goals for 2022 could be to improve your finances, such as getting out of debt or saving for a home. Whichever they may be, here are smart money moves you can make in January to start you on the right path to reach your goals in the new year.


Set your financial goals.

Think about everything you are trying to accomplish this year. What financial goals do you need to set to achieve your other goals? Is it to save money or pay off debt? What goals should you set to improve your finances? Do you need to develop a goal plan to improve your credit score, financial literacy, or create and stick to a budget? By setting realistic goals for the new year, you will give yourself something to work toward.

Evaluate your cash flow.

Now is great timing because you have an entire year of receipts, bank statements, credit card charges you can review. Carefully examine what, where, and how you spent last year. If you are in too much debt or didn't save as much money as you wanted to, now's the time to think about what you could do differently this year. What steps do you need to take to start paying off that debt or reaching your savings goals? What's holding you back from taking your finances head-on?

Assess your recurring charges.

When going over your expenses, review ALL of the subscription services you are paying for. Pick out the ones that you rarely used or did not benefit from and cancel them.

Review your investments.

Monitor the performance of your investments to see how they are working together to help you progress toward your goals. Do you have retirement and investment accounts in a variety of places? Try to consolidate as many accounts as possible to make viewing and managing your investments easier. Doing this will make it easier to check your asset allocations and may save you some administrative expenses.

Review your investment accounts to see if they show any gains or losses. If the values are changing, your asset allocation may no longer match your investment goals, so you need to make adjustments. As the markets go up and down and as you age, you will also want to look into resetting your asset allocation. Contact your financial advisor to figure out a plan that better aligns with your changing needs.




Revisit your estate plan.

Do a quick check on your beneficiaries to make sure everything is heading to the right people if something happens. This includes checking your retirement accounts and life insurance. Don't discount contingent or secondary beneficiary designations. Having beneficiaries allows for quick and easy transfers of your assets upon death, free of probate. It's the most common method of inheritance, but it has its downfalls, which makes reviewing and updating even more necessary. While you're at it, also think about whether you have enough life insurance.




Increase your 401(k) contribution.

Check with your 401(k) administrator to ensure you're contributing enough to get the full employer matching contribution. If you're getting the match but not maxing out the account, increase your annual contribution by 1% to 2%. Then check to see if you can set your account to auto-increase by 1% every six months until you get there.




Get saving for the year out of the way

Once you satisfy your annual saving requirement the first thing in the year, you're free to budget for fun stuff, assuming you are continuing to set aside money for your 401(k). First, figure out how much you want to save for the year. Next, divide that amount by the number of your paychecks, and then automate your savings with the amount calculated. You can put your automated savings into an investment account of your choosing, Specialty Share Account, Money Market Account, or Share Certificate. If you have the ability, max out your non-401(k) accounts, such as a Roth IRA or HAS (Health Saving Account) now. Maxing out your non-401(k) accounts means contributing the maximum allowed per IRA rules.




Review your tax withholding

Consider adjusting your withholding if you owed taxes or received a large refund last year. Changing your withholding can help you avoid a large or unexpected tax bill or let you keep more money each paycheck. In addition, life changes such as getting married or divorced, welcoming a child, or taking on a second job may also mean you need to change your withholding. Use a Tax Withholding Estimator to help you determine the right amount of tax to have withheld from your paycheck. This tool will help determine if you need to adjust your withholding.

Consider estimated tax payments if you made a considerable amount of non-wage income during the year, like self-employment income, investment income, or taxable Social Security benefits.




Get a head start on your taxes.

Your tax forms will be arriving in the mail soon. Set aside a place to gather all your tax documents so you can be prepared when the time comes to file your taxes. You probably have a general idea of how much you're going to owe or receive for your taxes. If you anticipate a tax refund, increase your savings or retirement contributions now. If you anticipate owing tax, set aside an amount per paycheck with a Specialty Share Account and pay the tax balance in full by April 15th.




Educate yourself as much as you can about finances.

There are many online tools available to help you achieve all your financial goals for 2022. You have access to articles, resources, podcasts, calculators, and much more! Find financial education resources that matter to you. A regular financial success newsletter can also be a great way to keep up with the latest economic trends and continue your positive personal finance habits for years to come. FREE financial wellness webinars are also a great way to empower your financial success for 2022. Ask financial experts questions and learn more about topics such as repaying debt, saving for the future, or buying your first home.


If you're overwhelmed by your 2022 financial to-do list, get help. Find a professional to assist you with your weak areas. It takes time to change habits, so be gentle with yourself, but keep moving forward! As a CAFCU member, you can connect with a Financial Coach about your specific situation! Chat online, e-mail, or call 888-456-2227 for a free consultation with a Financial Coach today.
Not a member yet? You can still get exclusive access to FREE and confidential money management support whenever you need it. Find out what it's like to get advice from our representatives, who genuinely have your best interests in mind. Learn about all of our exclusive member benefits and join today!