A Visa® debit card from Corporate America Family Credit Union (CAFCU) empowers you with a safe and convenient way to spend. It may look like a credit card, but purchases are deducted directly from your checking account, so there are no bills or interest to pay later.
It's smart. Our debit card makes it easy to track your spending and stick to a budget.
You can spend only as much as the balance in your checking account.
There are no interest charges.
You can see how much you've spent and where you've spent it. Simply log into Online Account Access or check your account using our Mobile Banking App.
Monitor and manage your CAFCU debit and credit cards with the CAFCU Card Control App.
​It's safe. Chip technology is an important, proven tool that helps fight counterfeit fraud.
When you use your CAFCU card at a chip-activated terminal, the embedded chip generates a one-time use code. This code is virtually impossible to counterfeit and helps reduce in-store fraud.
Visa's Zero Liability policy protects you against unauthorized purchases.
Check transactions anytime through Online Account Access to catch fraudulent charges right away.
I​t's easy. You can use it anywhere Visa is accepted. Simply hand your card to the merchant (or swipe it as directed), sign, and you're on your way.

​It's rewarding. If you're a Rewards Advantage Checking account holder, you can earn 1 point for every $2 in signature transactions* with your debit card.
Redeem those points for travel or gift cards from major retailers.
To reap even greater rewards, combine points from your CAFCU Visa credit card with our uChoose Rewards® program.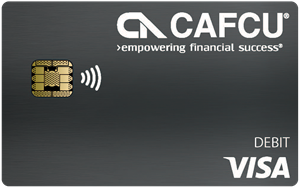 Get your Visa Debit Card. Open a CAFCU Checking Account today!
Log In to Open Account OR Join Now
Note: You must be a current CAFCU member to open an account online.
For more information or questions connect with us:
*One point is earned per $2 purchased for signature-based transactions with the Rewards Advantage Visa Debit Card. ATM transactions or PIN transactions do not qualify. Member's account must be in good standing to earn and redeem points. Contact Corporate America Family Credit Union for complete details.